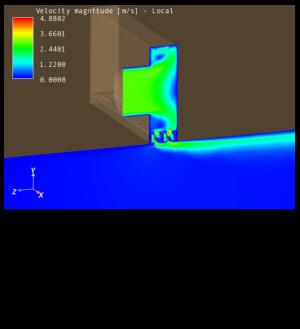 horizontal flow
The slow follows the line of the ceiling
Guaranties the total absence of air currents
both in heating and cooling.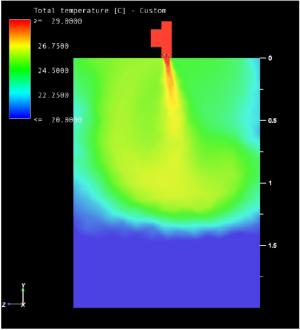 verticalflow
The flow penetrates the room directly
Prevents thfor lengths greater or euqal to1500mm used for heating.
The KL series diffusers represent the best development for this type of air diffusion units. Their particular structure allows to direct the flow of injected air along the ceiling. The effect is one of a progressive mix with the air in the room without the need of creating air urrents or air vortex that may be perceptible even in cooling mode. In contrast it is possible to direct the flow of injected air rapidly toward the floor, with a large forcing action to obtain a rapid heating of the room.
Technical data
Anodized profile or painted RAL 9010
Deflectors adjustable in aluminum: anodized, paint RA 9010 , paint RAL 9005 black
Standard diffusers with 1, 2, 3, 4 up to maximun 8 slots on demand
Standard lengths from 800, 1000, 1500 and 2000mm
Suitable special or bigger dimensions (online) already assembled or to be composed during the installation on site
Available on request 90 °angular, end caps, joints
Installation height between 3 and 6,0 m
Plenum in galvanized steel with or without insulation
Installation of the diffusers in the plenum with assembly bridge or spring
Test Method
The analysis of the aeraulic performances of the KLV series diffusers have been carried out by means of a "virtual test laboratory".
All the tests and the relative measurements have been conducted by means of an advanced CFD (Computational Fluid Dynamics) software.
This applies the method of the finished elements to the fluid dynamic for the analysis of speeds, air flow distribution and pressures losses.
cooling conditions
deflectors angled for horizontal flow
The Values of flow length of each diffuser have been defined in isothermal conditions in accordance with ISO 5219 regulation with deflectors angled in "cooling" position, for horizontal flow.
The length of the flow is indicated by values obtained from the speed along the trajectory of the air vain.
cooling conditions
joining of flows
An analysis has also been carried out of the intersection of the flow of two diffusers with equal flow rate placed opposite at a distance of 4.5 meters. In this case the obtained results show the air speed of the intermediate zone between the two diffusers at different heights.