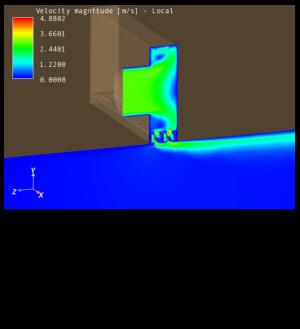 Horizontal flow
The flow follows the line of the ceiling
Guaranties the total absence of air currents both in heating and cooling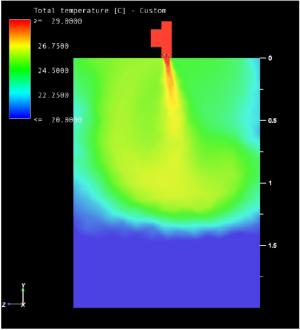 Vertical flow
The flow penetrates directly the room, used for heating
The linear diffusers of the KL series are diffusers with a central swivelling deflector. By inclining the deflector, it is possible to direct the supplied air along the ceiling, generating a progressive mix with the air in the room without creating air currents or swirls perceptible within the occupied area.
By adjusting the deflector horizontally, on the other hand, it is possible to direct the flow of supplied air vertically towards the floor, with a great penetrating action to obtain rapid heating of the room.
Technical data
Anodized profile or painted RAL 9010
Deflectors adjustable in aluminum: anodized, paint RA 9010 , paint RAL 9005 black
Standard diffusers with 1, 2, 3, 4 up to maximun 8 slots on demand
Standard lengths from 800, 1000, 1500 and 2000mm
Suitable special or bigger dimensions (online) already assembled or to be composed during the installation on site
Available on request 90 °angular, end caps, joints
Installation height between 3 and 6,0 m
Plenum in galvanized steel with or without insulation
Installation of the diffusers in the plenum with mounting bridge or spring
Test Method
The analysis of the aeraulic performances of the KL series diffusers have been carried out by means of a "virtual test laboratory".
All the tests and the relative measurements have been conducted by means of an advanced CFD (Computational Fluid Dynamics) software.
This applies the method of the finished elements to the fluid dynamic for the analysis of velocities, air flow distribution and pressure drop.