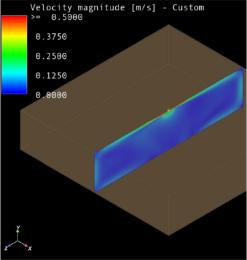 Summer Configuration
The summer configuration is obtained by lowering the internal cones.
It allows you to direct fresh air along the ceiling, preventing the triggering of annoying drafts. The fresh air flowing along the ceiling creates an effect of aspiration of the air present in the room which then mixes with the air introduced above the occupied area giving rise to the phenomenon known as induction.
The chromatic scale of the images allows you to appreciate how the air speed within the occupied area always remains below the 0.2m / s threshold.
The KU5, KU6 and KU8 Series units are circular diffusers with aluminium adjustable cones. These diffusers are both apt to supply, heating and cooling applications and they are ceiling installed.
Technical data
Available diameters from 100 up to 630 mm for KU5 model
Available diameters from 100 up to 315 mm for KU6 and KU8 models
RAL 9010 aluminium white painted construction
Included butterfly damper for KU8 model
Regolation by micrometric screw of each cone
ABS regulation for KU6 and KU8 models
Damper regulation for KU8 model through screwdriver frontally to the diffuser
Installation height between 2,6 and 6,0 m
Air capacity from 40 up to 5.600 m3/h
Fixing by sideways screws directly on the duct connection or onto the plenum
Aside available equalizer, butterfly and collecting damper for KU5 and KU6 models
Galvanized steel Plenum with or without damper, equalizer and insulation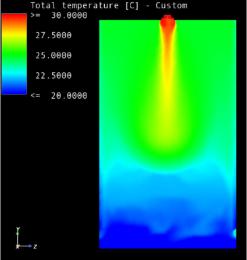 Winter configuration
The winter configuration is obtained by raising the internal cones.
It allows you to direct the hot air towards the lower part of the room thus avoiding that it "floats" on the cold air remaining outside the occupied area, giving rise to the phenomenon known as stratification